When you visit a website that's offering services for multiple social media platforms, you expect that if you want, you could buy everything from them for a reasonable price and get something that's of reasonable quality.
Mysocialfollowing is one of those websites that offer multiple services for multiple social media platforms, and that's what caught our attention.
We've taken a close look at what they have to offer, and is that really worth the time and the money of their regular or potential customers.
If you're interested in a company that definitely makes you feel like your time and money are spent worthly, you should check out Upleap. For those who are further interested in seeing what this service offers to their customers, check out our Upleap review and see for yourself.
Keeping your options open while searching for the best service for growing your social media following is always a smart move, so in addition to everything we say here, also consider these options:
Nevertheless, let's get back to the main topic – this Mysocialfollowing review and what they offer as a service.
Our sole purpose is to present you with all the information available about Mysocialfollowing in a manner that won't sway you towards a positive or a negative opinion about this company and the service they offer.
It's important to stay unbiased and look at the data we have collected, so you can come to the best possible conclusion about that company.
Now, without further ado, let's jump straight into the data we have collected and see what they have in store for their users.
Mysocialfollowing – Does It Work?
The biggest problem you can have when it comes to a company that's offering services similar to the ones that Mysocialfollowing offers to their clients is that it can stop working or not work at all.
These services are considered scams and aren't used for long, so they meet their end after a pretty short time period.
Mysocialfollowing seems to work just fine, and there aren't any technical problems related to it.
People who buy services from this company often get what they paid for, but with a few exceptions, unfortunately.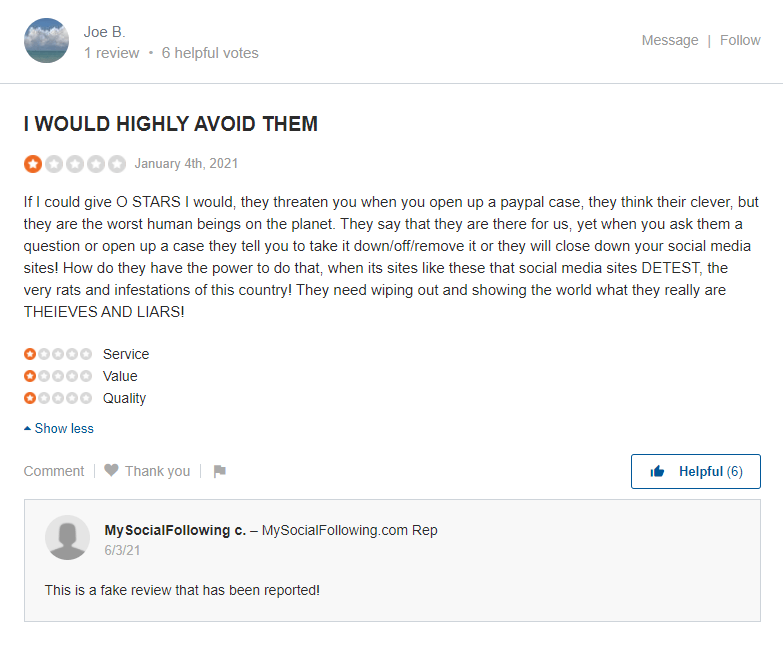 As you can see, there are some extreme cases such as this one that presents you with the ugly side of things, and how things look when something doesn't go right.
We know that these cases aren't a common practice since this website has overwhelmingly positive reviews overall on Sitejabber.

It's evident that the majority of people that left a review about Mysocialfollowing on Sitejabber's website have a more than good experience with this company and the service they provide their users with.
Overall, there aren't many negative reviews, and even when you stumble upon them, it's not something big like the last example for the most part.
Do these reviews make Mysocialfollowing a scam? We wouldn't say so, since this isn't a common practice of theirs.
How Well Does Mysocialfollowing Work?
We would say that, from what we saw, Mysocialfollowing works perfectly fine most of the time.
There are some holdups here and there, but nothing serious or threatening to you or your social media account.
Considering the simple design of their website and the services they offer, there aren't many things that could be the cause of a serious problem.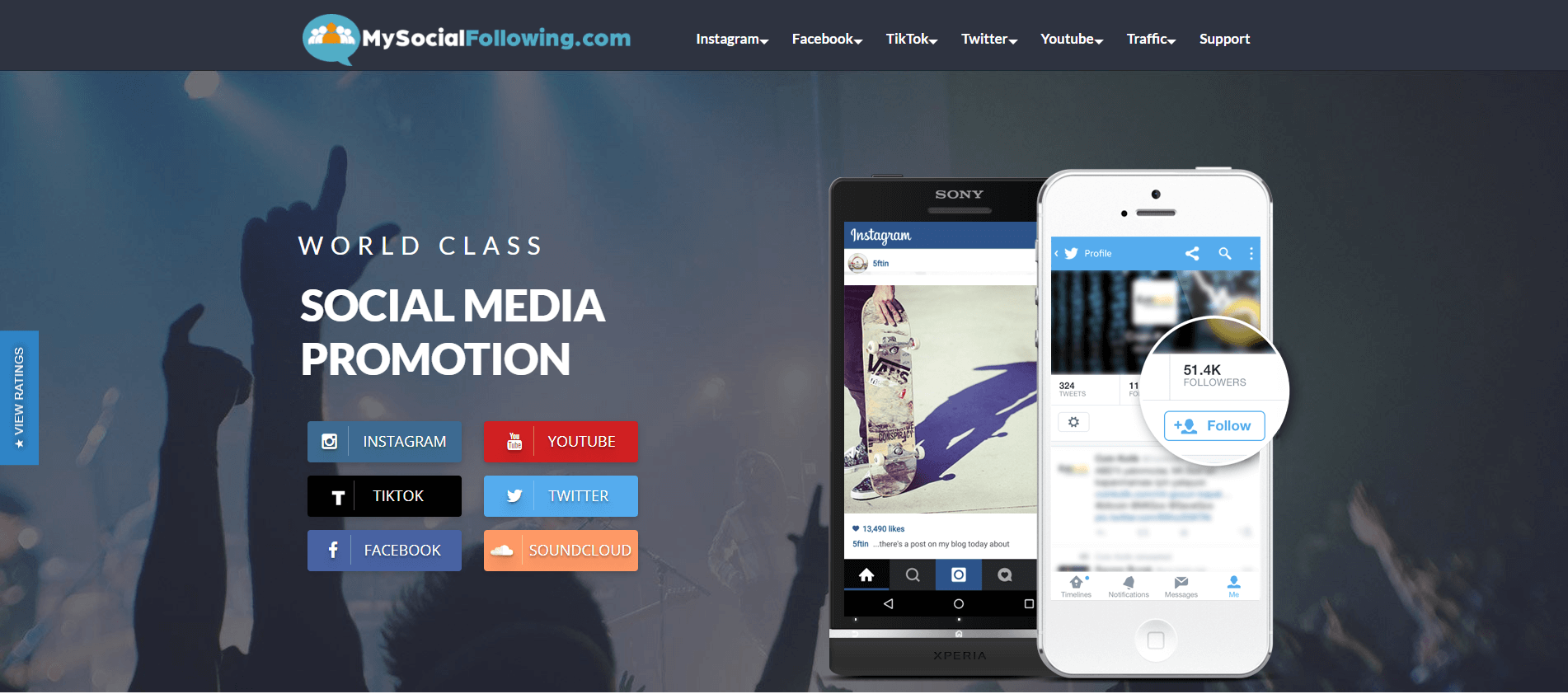 It's evident that the navigation through this website isn't something that's rocket science, so you don't have to worry about losing track of things.
There are some websites out there that don't even register your clicks, let alone give you what you paid for, so this is a good sign alone.
We'll focus on Instagram here since their most bought services are Instagram-related, and most of you reading are most likely mainly interested in boosting your engagement on Instagram.
As far as Instagram goes, there are a few options to choose from:
Instagram followers
Instagram likes
Instagram views
Instagram comments
Automatic likes
Combo packages
It's interesting that they offer combo packages since they are not that common at all. In fact, we can't think of more than one or two websites that offer this service.
The interesting part is that they let you choose how many followers, likes, and comments you'd like to purchase, and then tell you the price depending on what you chose.
We think this is a great refreshment from the static packages that are already formed, and it gives the users an opportunity to have all three for a fair price.
Considering the wide range of services, we have taken a look at some other comments regarding this company to see if the users are satisfied.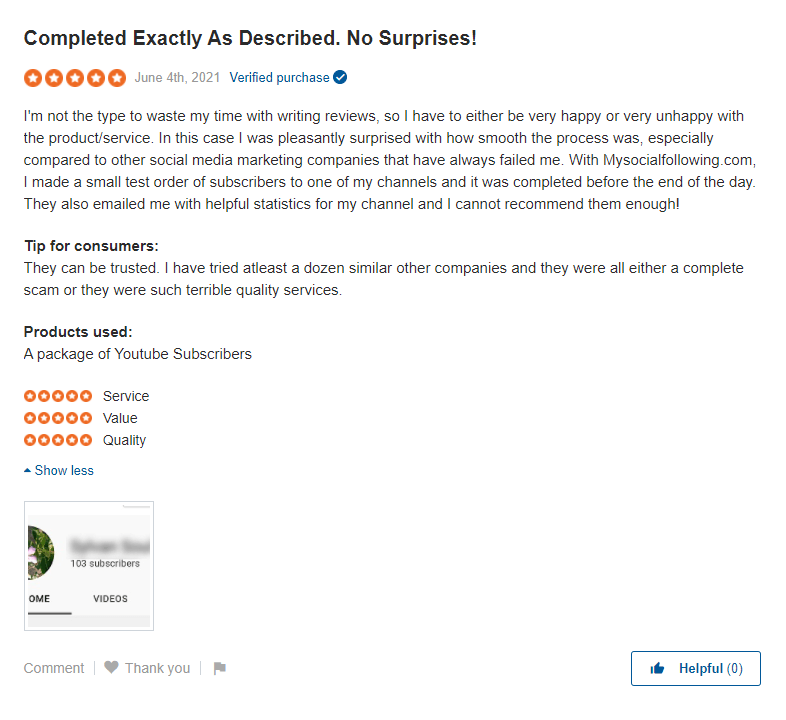 Even though this review is about YouTube-related services, the user has had an amazing experience with the company and its services, so this should also be taken into consideration.
What We Like About Mysocialfollowing
There are a few minor things we like and wanted to mention, but we don't think they are crucial factors that you should heavily consider when making a choice about using this service (or not using it).
The first thing is that there is a 100% money-back guarantee policy, or so they say.
This is a fantastic way to make your customers feel a bit more comfortable while using the services.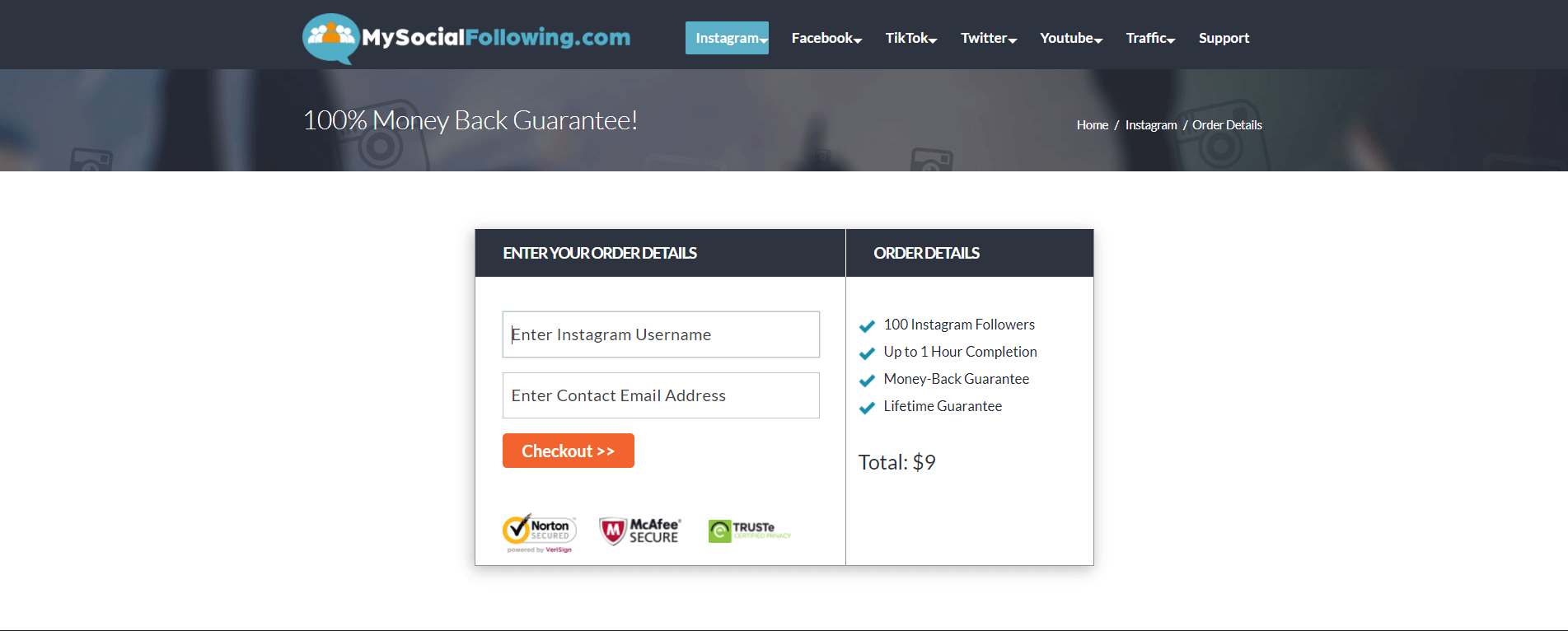 Another thing we really liked is the fact that their customer support seems to be working excellent.
Things We Don't Like About Mysocialfollwing
Unfortunately, there are some things we'd like to see change about Mysocialfollowing and their services.
The first thing is the fact that there's no "free trial" option. That's unfortunate since it's the best way of letting new users try out the service in question.
The second thing is that their website, although simple in design, is quite outdated.
Photos that they use for Instagram services have the vibe of the old Instagram, and that should be changed.
Mysocialfollowing Review – Conclusion
As you can see, we have listed a ton of things about Mysocialfollwing. In order to help you navigate yourself through these pieces of information, we made a pros&cons table.
Let's take a look at it:
| PROS | CONS |
| --- | --- |
| Simple design | Outdated design |
| Secure website | No free trial is available |
| 100% money-back guarantee policy | A few negative reviews |
| Custom mixed packages | |
All these things mean something to a new and potential user, but not all of them are equally important.
For example, it's way more important how secure a website is or if there's a money-back policy than how the website looks and feels while you're using it (except if there are some bugs that make it unusable).
The moral of the story is to take your time, take into consideration everything we listed here (and additional information if you found some) before reaching the final decision.
We wish you luck in your decision-making process!