We know that choosing only one from the abundance of Instagram growth services is challenging, to say the least.
That's why we put so much effort into bringing you the most comprehensive and unbiased reviews, such as this one.
This Boostlikes review is the product of hours of research and we're happy to finally share it with you!
We'll cover many topics, including:
Is Boostlikes safe to use?
Will this service harm your account?
Can you rely on it to deliver real followers?
While on the topic of real followers, we'd love to tell you about our most exciting discovery – a service named Upleap. Perhaps you've already heard of it, perhaps not. In any case, don't miss out on our Upleap review that speaks about it in detail. You can find it HERE.
You shouldn't limit yourself to just one choice, so here's a list of more Instagram growth tools that are worthy of your attention:
Boostlikes Key Points
We like to kick things off with a review summary in the form of a pros&cons table just to give you a taste of what to expect in the rest of the review. If it tickles your fancy, keep on reading!
| PROS | CONS |
| --- | --- |
| Affordable prices | No customer reviews |
| A variety of deals available | Potentially selling fake or mixed-quality followers |
| Has a drip-feed method | No PayPal payment option |
Boostlikes – The Basics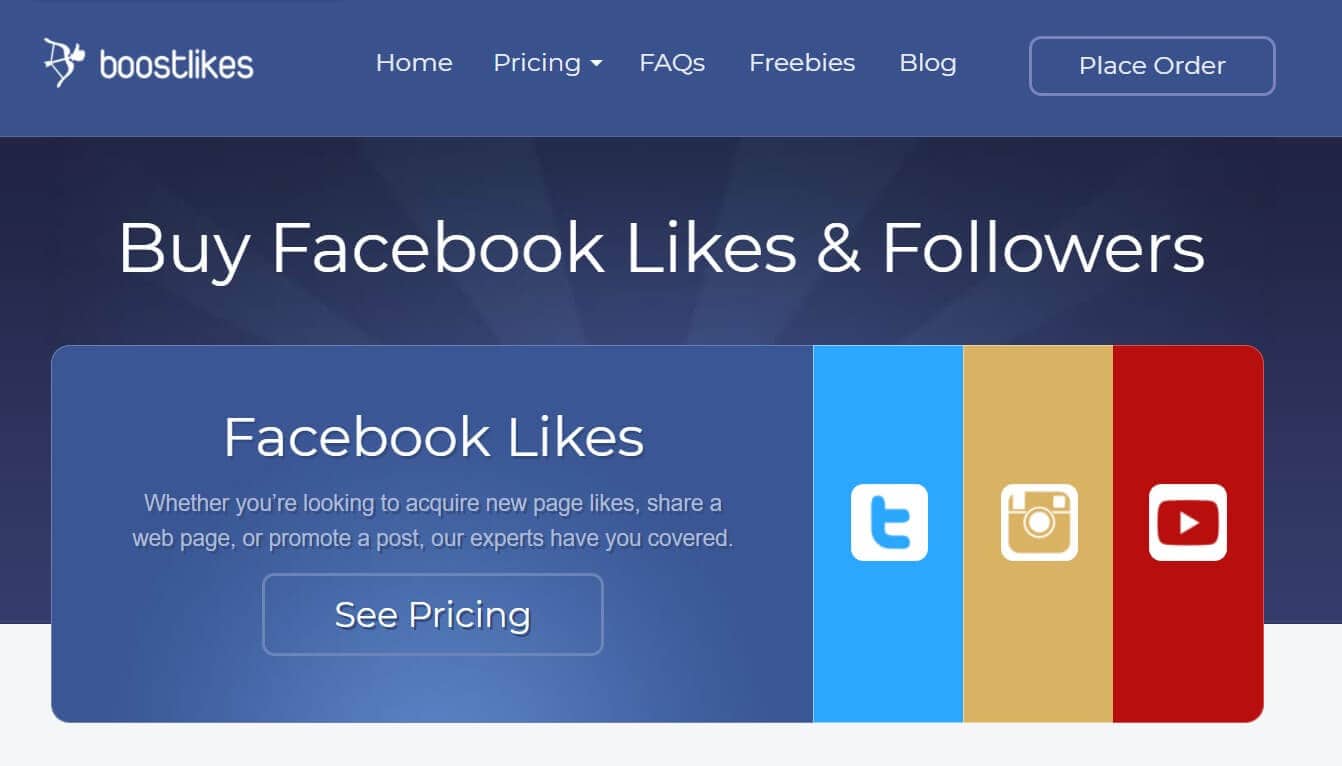 Boostlikes provides services for Facebook, YouTube, Twitter, and Instagram. Furthermore, they sell (allegedly) real followers and engagement.
This company is quite proud of its service. Their website features many positive customer reviews and self-praising descriptions. There's also a graph that shows how Boostlikes stacks up against the competitors.
They obviously think highly of themselves, but it's our duty to see if their statements are true.
After careful evaluation, we've come to the conclusion that it's not exactly the reality of the situation, or better yet – we don't really know whether it's the truth or not.
You see, there are no available Boostlikes reviews from previous customers. We'll explain this in more details below, but for now, let's see how it all works.
How Boostlikes works
On the homepage of the website, you can see what they have to offer. One of the benefits of this service is that the website is very user-friendly and straightforward.
Whether it's features for Twitter, Instagram, Facebook, or YouTube, you should have no problem finding what you're searching for.
For the time being, we'll focus on the Instagram aspect of the business.
As far as Instagram goes, Boostlikes offers you to buy followers, comments, and likes. Auto-likes are also a relatively new feature.
Select the number of engagements/followers you want, then paste your account's URL and pay. After that, the order should be delivered to your profile.
We appreciated that the buying process is so simple. It shouldn't take more than a couple of minutes and they don't require you to leave any sensitive data, such as phone numbers, addresses, passwords, and so on. Well done, Boostlikes!
Are Boostlikes followers real?
The followers are an essential component of any service of this nature. They're the ones who are meant to boost your account's engagement and growth.
So, what exactly is going on with Boostlikes' followers?
Boostlikes is unusual in that it allows you to purchase anything between 500 and 50K followers (the packages are in 50 followers increments).
This isn't something you see often – companies like these usually have 2-5 packages that range between 100 or so to 10K followers.
Boostlikes, undoubtedly, has the most various options when it comes to followers.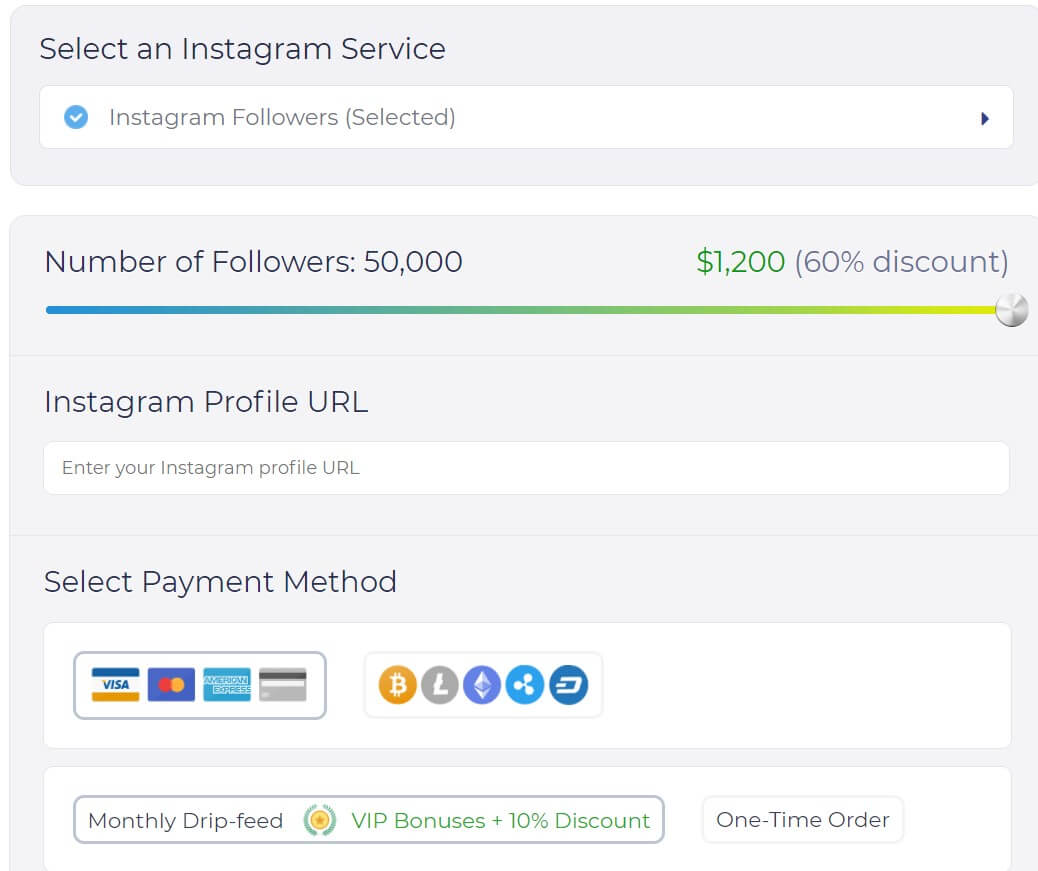 And the best part is that they are not unreasonably priced. You can acquire 1,000 followers for $36 and 50,000 for $1,200, which isn't the cheapest choice, but it's certainly within reach.
Generally, we would not recommend buying such a large number of followers because most of these businesses only provide fast delivery. Getting tens of thousands of followers in a few hours may be harmful to your account.
But this is where Boostlikes takes advantage over its competitors:
Boostlikes offers a monthly drip-feed method to ensure that followers appear on your profile slowly over time.
This is the ideal approach since it most closely mimics organic development.
While we love this feature, unfortunately, there is one drawback to Boostlikes – they accept credit cards and cryptocurrency payments, but do not accept PayPal.
Other Instagram features
Boostlikes offers a unique approach to likes as well. They let you pick between the quantity of likes for each post and the number of posts for which you want the likes.
So, if you want to receive 50 likes every day on one post each day, you'll have to pay $60 per month, and so on.
And, you might wonder, where do boostlikes come from.
They claim they're all from accounts in the United States, but who's to determine what's true? We can't tell you for sure, and customer reviews aren't particularly helpful with this issue either (there are none).
In terms of the comments, we're not sure they're worth much discussion. It's probably safe to assume they're not that fantastic because we couldn't find any customer evaluations regarding comments.
The "Freebies"
On their website, Boostlikes offers a section called Freebies. You'd think they're talking about a free trial, and you'd be right. Well, sort of. They provide two services here:
One is a $30 gift certificate if you mention Boostlikes on your blog, and the other is an Idea generator for Twitter and Facebook posts.
Although this is interesting, we believe customers would prefer a good ol' fashioned free trial where they let you test the waters with a dozen or so followers.
No customer reviews – Where are they?
The most shocking part of our research was not finding any Boostlikes reviews from past customers. This is particularly surprising considering Boostlikes is not exactly a new company.
When you think about it, there should be not one, but many available reviews about this service. However, this is what their Trustpilot page looks like: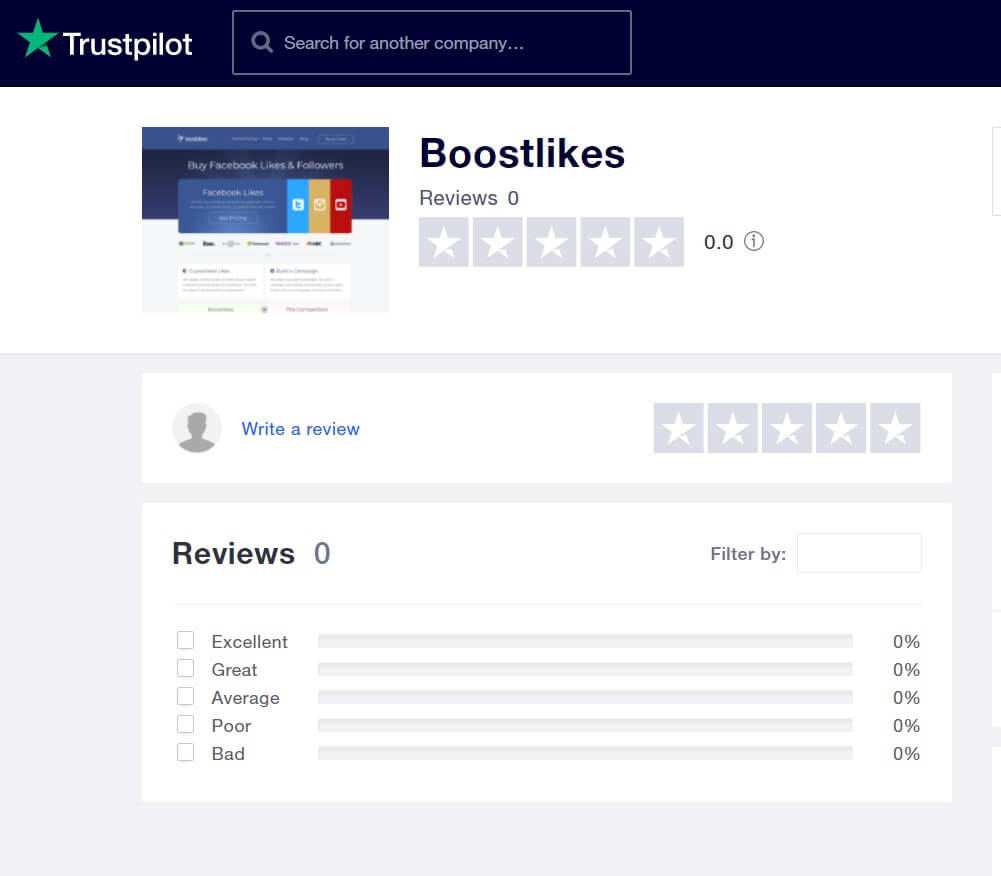 We have to admit this is the biggest downside of Boostlikes, and it's not minor at all. This kind of thing can be a deal-breaker.
Is Boostlikes legit?
Although the absence of customer reviews does not bode well for Boostlikes, it is not enough to rule out the service entirely.
Nothing about it suggests that it is an illegal business. We can't say it's completely safe to use, though, for obvious reasons: We have no way of knowing how excellent the followers they sell are.
Based on our rich experience, there's a strong chance they're selling bot followers or, at the very least, mixed quality followers.
But, then again, we won't know for sure until someone gives it a try and gives us honest feedback.
On the off chance the followers they sell pose a threat to your account, we have to advise you to think carefully before you purchase from Boostlikes.
Then again, who knows – it could end up being an excellent purchase.
A final word on Boostlikes
It's time to weigh all of the information presented in this review and make a final verdict on Boostlikes. So, the major question is whether or not you should try Boostlikes.
True, Boostlikes provides a lot of great features, such as different packages and amounts of followers for sale, a gradual delivery method, reasonable prices, etc.
If the followers are, indeed, high-quality profiles that will engage with your content, this could be a deal of a lifetime.
It really bothers us that we don't know this for sure. If you're keen on trying Boostlikes, make sure to share your honest opinion with the rest of us.
If not, check out our recommendations – you won't regret it!