Have you ever spent some time looking into an Instagram growth service with great expectations only to discover it was no longer available?
When we sought to discover more about Social Package, that's precisely what happened to us.
In case you didn't know, Social Package was an Instagram growth service that went out of business quite some time ago. We were intrigued about the circumstances behind its demise, so we searched the Internet for any relevant information.
This Social Package review is the fruit of our labor!
Stay with us to the end to find out what happened to this service and learn about some good alternatives. Let's get this engine started!
Since you're here reading about a dead service, let us recommend an up and running one called Upleap. Believe us when we say you won't regret giving it a chance! You don't have to research it by yourself – our complete Upleap review contains all you need to know.
If (although undoubtedly) it's not to your standards, you can also take a look at this table that lists a few more great options. You can thank us later!
SocialPackage Review Summary
Even though we advise you to read our whole review in order to form a better final opinion about Social Package, we understand if you're short on time, so here's what it all boils down to:
| PROS | CONS |
| --- | --- |
| | It was a scam |
| | Sold fake followers |
| | Customer service was unresponsive |
| | Shut down for good |
| | Got their users banned |
What Was Social Package?
Social Package was a growth service dedicated entirely to one social media platform – Instagram.
As you could have figured by now, SocialPackage shut down.
Despite the fact that all traces of Social Package have vanished, the fact is that the company has relaunched as Xplode Marketing, a company that offers a wide range of services, including but not limited to site design, SEO, Internet marketing, and more.
Xplode Marketing, on the other hand, looks to be a much more serious organization than Social Package ever was. But, since their line of business isn't our cup of tea, let's stick with Social Package and see what type of service they used to provide.
About Social Package
Given that Social Package has disappeared without a trace, it required a lot of effort and time to piece together the service's complex features. But what are we if not committed?
So, our diligence paid off, and we were able to unearth some information.
According to reviews, Social Package believed that followers and likes are sufficient for efficient Instagram growth. They didn't sell any of the additional things that many related businesses do, such as comments, views, and so on.
This isn't a problem because we feel you can get a lot of value from Instagram followers alone, as long as they're real. Followers are the main heroes, whereas likes, views, and comments are simply sidekicks in this game.
If your goal is to grow your Instagram account and establish a substantial following, and in your journey, you come across a company that sells just followers, don't be afraid to give it a go; especially if the followers are high-quality and engaging, the likes and views will come organically.
Is Social Package Shut Down? What really happened
It didn't take long for people to realize Social Package's site was down and the service had just vanished, so the numerous questions about its demise didn't come as a surprise.
It's been established that Social Package is gone for good. But the question remains – Why?
We can only speculate since, as you may have imagined, the company never made an official statement regarding what transpired.
We believe that SocialPackage will never return, and this is probably true. Companies that become defunct seldom come back to life, and there's no reason to believe SocialPackage would be any different.
Anyway, we're here to discuss what happened to Social Package and what this company did that was so wrong, so here's what we managed to find out about it.
It's not surprising that Social Package went out of business because they failed in every area of their service.
The list of their transgressions is extensive, so let's go through it one by one.
If you're wondering why you should read about a defunct service, the explanation is simple:
You want to know what went wrong and what you should avoid in the future. When it comes to Instagram growth services, the items listed below are big red flags.
The first area in which Social Package fell short was in supplying real followers.
This was one of those businesses that specialized in selling phony followers. Of course, they disputed it and continued to tell their side of the story, which featured only genuine followers who engaged with your account.
That was a blatant lie, as we now know.
Another flaw was the manner in which Social Package distributed the followers. They'd send a swarm of bots to your profile at the same time.
You don't see how this is a problem?
As you may or may not know, the key to long-term success on Instagram is to take an organic approach.
This means no bots and no sudden spikes in followers.
To be more specific, you should never buy false followers (intentionally or not), and you should never gain a large number of them all at once.
Instagram's algorithms will be triggered, and their anti-bot policy will be implemented. You'll be suspended and/or blacklisted before you realize it.
Social Package's customer service was the icing on top.
They chose to entirely disregard all of their clients with any concern and no answer, as if the rest wasn't terrible enough.
When you think about it, this sort of behavior isn't out of the ordinary for a service like this.
It's what occurs when they purposefully deceive their clients by selling fake followers, resulting in their accounts being suspended.
Isn't the image becoming clearer?
You now know why this company went out of business, and we think it's safe to say it won't be missed. And it's a good thing because the Social Package scam lasted far too long.
Customer reviews
Who better than their former clients to tell us about Social Package?
Fortunately for us, Social Package is unable to remove genuine customer evaluations from the Internet, allowing us to see how things truly were.
Unfortunately for us, there aren't many online reviews available.
There are just four Social Package reviews on Trustpilot, three of which are one-star ratings. We opted to disregard one glowing 5-star review since it is generic and appears to be false.
Here's what the other three had to say: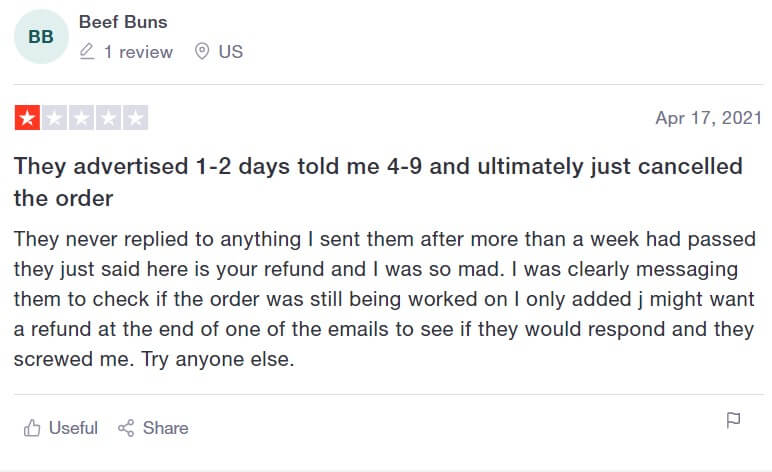 This user says Social Package just disregarded their messages and canceled the order without ever responding to them.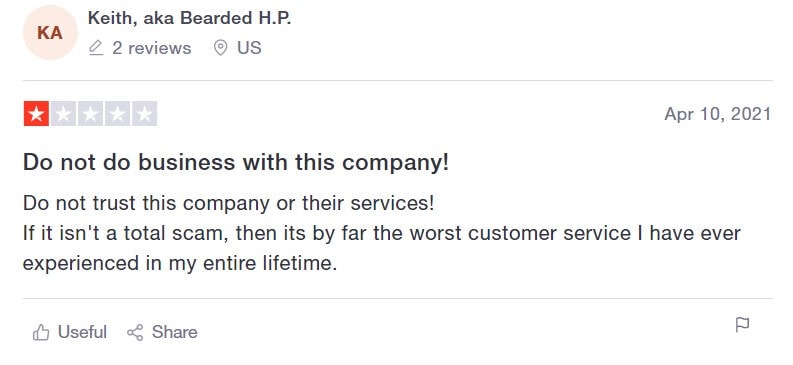 What a shock, huh?
According to this consumer, their experience with Social Package's customer service was the worst they've ever had.
Last but not least, we've saved the "best" for last.
This one nicely encapsulates the Social Package story.
Is Social Package a scam? These three evaluations are sufficient to answer the topic.
We think you already know the answer.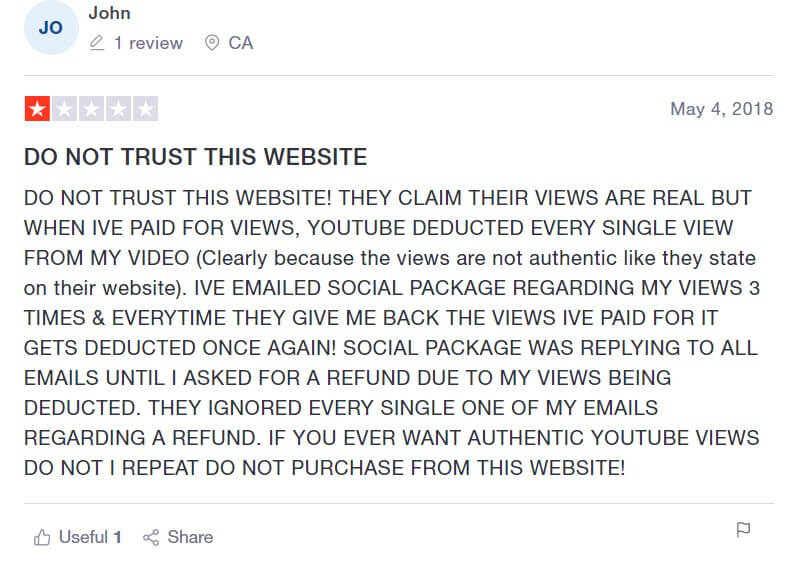 Recap
We provided plenty of information in a short review, so let's recap one more time and gather our thoughts into another pros and cons table:
| PROS | CONS |
| --- | --- |
| No longer exists | It was a total scam |
| | It wasn't safe to use |
| | Customer support ignored complaints |
| | Delivered fake followers |
Conclusion
Services like Social Package are shutting down one by one, and let's hope they keep closing down until there are none left.
If there's one piece of advice we can give you, it's to be exceedingly cautious about who you trust with your Instagram account and money.
What else can be said about Social Package except for "good riddance!"