What if yesterday you saw one service that interested you, and today it is already a shutdown?
A similar thing happened with Rise Social.
Yup, this service had such a bad reputation that a shutdown was the only and inevitable end.
Here's one service that won't let you down – Upleap. If you're looking to grow your follower number organically, you should definitely consider it. And if this short intro got you interested, here's our review with some more information.
Anyways, back to Rise Social.
A growth service doesn't just disappear like that. Something had to happen, and we think we think we know exactly what.
So, if you're interested in finding out why Rise Social is unavailable to potential customers, and learn something from this example, you know what to do.
This is just the beginning, and we're spilling the tea on Rise Socal – scroll down!
If you need some alternatives, here is a table that can help you.
Rise Social – Key Takeaways
As we said, it wasn't just one thing that caused Rise Social to shut down. This happened because Rise Social made many wrong decisions and disappointed its customers.
To make some things clear to you at the very beginning, here is a short table of pros&cons.
| PROS | CONS |
| --- | --- |
| | Shut down. |
| | Forwarded fake accounts. |
| | No free trial. |
| | Customer service ignored messages. |
| | Negative reviews on Trustpilot |
What Is Rise Social?
We are aware that some of our readers are not fully familiar with the service we are talking about today, so before we give a final answer to the question "Is Rise Social a scam", let's remind ourselves what this service was all about.
Rise Social was an Instagram growth service. More precisely, Rise Social was supposed to help you boost your follower number and make you popular.
Here's what it looked like before it was wiped from the Internet.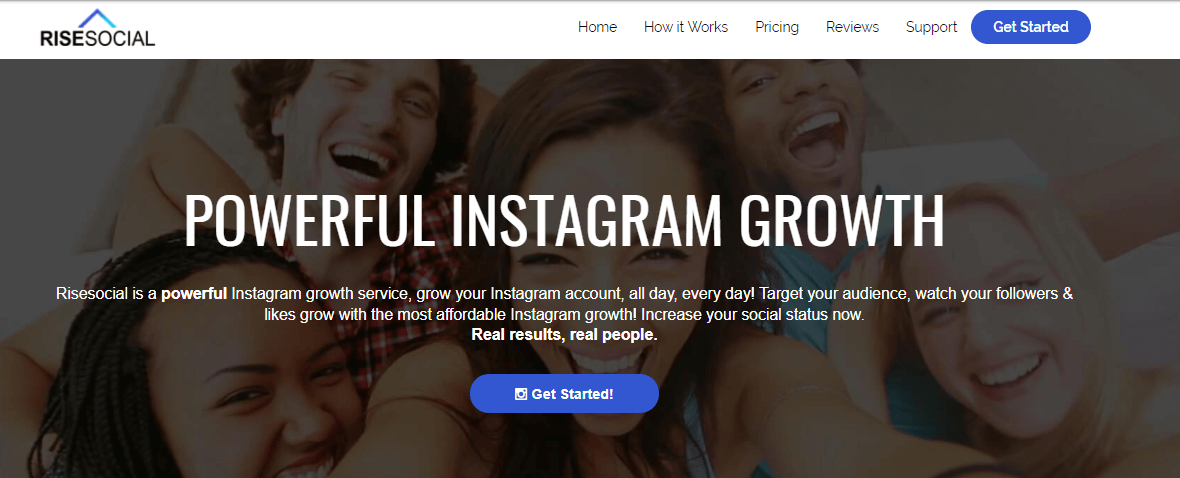 Rise Social had some pretty strong claims on its homepage. They called themselves "the most powerful organic Instagram growth service on the market".
Usually, when a service exaggerates with words of praise, it does not end well.
Rise Social – What Went Wrong?
Rise Social is just another Instagram-growth service that got shut down. It is important to know that this happens almost every day, and that it is only a matter of time before potential scams are 100% revealed.
Your awareness certainly contributes to this. How?
When choosing the tools you want to boost your follower number with (in this case), never go with the first choice you come across. Always take some time to check it out first.
Checking includes scrolling through the homepage, looking for potential red flags, reading comments from customers, etc.
However, what helps the most is reading reviews like this. They represent a detailed set of information that you need to answer the most important question. In this case, it is:
Is Rise Social legit?
Don't worry, we've got the answer to that.
Forwarding Fake Accounts
The most important reason why Rise Social shut down was because it didn't fulfill anything that it promised and represented.
The most important thing to you was to get legit Instagram followers for your account. You needed real people that would stay on your profile, and interact with your future activity.
That's what this service was supposed to give you.
Rise Social advertised its followers as real, legit, and high-quality. It even allowed you to target your audience based on the job that you do: blogger, retailer, fitness, beauty, etc.
Someone who was looking to boost their follower number urgently, this looked like the Holy Grail. However, what they got from Rise Social made them regret clicking on "Buy" the first time.
Rise Social forwarded fake accounts. The Instagram followers that Rise Social sold were poor-quality. These profiles mostly came from China and India, and they were short-termed.
They had only a few followers themselves, and sometimes not even a profile picture. After a few days or weeks on your profile, they would disappear.
Another outcome was that Instagram removed them. Why? Because the delivery was not even close to organic, as Rise Social advertised it.
After you bought a package, your phone would blow up with follower notifications, making it look suspicious.
Instagram does not allow any kind of automatic inflow, and this just made things worse.
No Free Trial
We are sure that there is a large number of potential customers out there who do not want to buy something without prior knowledge of the services or a free trial.
Because of this uncertainty, many Instagram growth services opt for a free trial in which they offer about 100 followers.
This is nothing more than a way to convince their customers that their services are legit.
However, there is one thing you need to look out for.
It is no coincidence that services often insert higher-quality followers into their free trials just to make you buy a package of followers from them.
Rise Social, however, didn't have any kind of free trial for you to rely on if you felt uncertain.
It just had strong claims all over their homepage talking about how great a service they are, and that there's no reason for you not to trust them.
Customer Service Ignoring Messages
Quite possibly the worst experience someone had with Rise Social was when they tried to contact their customer support team.
Every online business should have customer service that is available 24/7.
With social media, this is a must. You never know what could go wrong, and your account could be in danger of shutting down.
Getting a hold of someone in Rise Social's customer support team was harder than you thought. In addition to being unprofessional, their customer service constantly ignored messages from their concerned customers.
This led to the fact that a large number of customers started to give up on this service completely, and started writing negative comments online.
Negative Reviews On Trustpilot
It's time to mention all those negative comments from past customers because they convey someone's experience with Rise Social.
We decided to go to Trustpilot, and see what people had to say about this service. We came across a lot of negative comments, and we decided to single out two examples that struck us.
Here is the first example.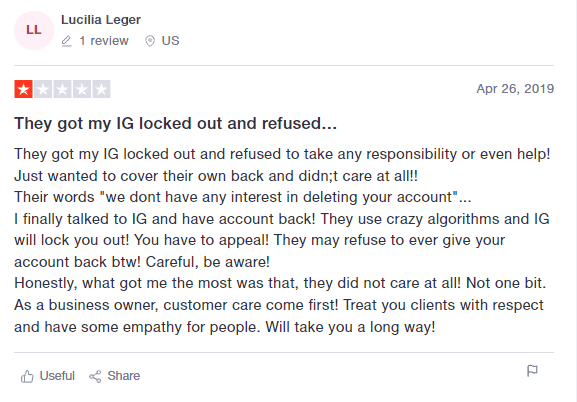 Imagine the anger of someone who lost their Instagram account just because the service didn't do its job properly.
That was pretty bad, but shutting down your Instagram account is just half of it. Rise Social stole people's money.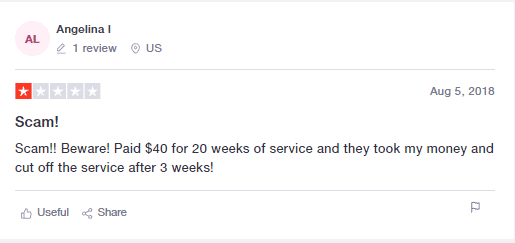 Rise Social Scam: Summing Up
That's a wrap on Rise Social.
Time to sum up everything we've managed to include in this review, and make a final decision regarding this service.
All in all, Rise Social is nothing more than a scam. It forwarded fake followers, stole people's money, and ignored the messages of its concerned customers. This is all confirmed in the reviews.
We hope that you have learned something from this, and that you will avoid all services that are similar to Rise Social.