Anyone who tells you that you can't make it on Instagram has probably never heard of Instagram growth tools.
The fact is that you can become an Insta sensation, but it will require time, effort, and money.
And, of course, a dependable growth service.
You can't simply trust a service blindly – there are far too many scammers out there for you to take it lightly. You have to do thorough research and make informed decisions.
In your search for a trustworthy growth service, you may have come upon Social Shop, and now you want to know whether you can trust it or not.
Welcome to our Social Shop review where we will try our best to bring you the truth about this company.
So, sit back and relax, and let's get started!
Before we go on, let's take a sec and focus on one service we know for sure to be trustworthy – UPLEAP. You can't go wrong with this one – whether you need real followers, affordable rates, or reliable customer support, this one has it all. Read about it in our Upleap review.
Also, take a look at the table below – it features more options!
Social Shop Review Summary
We've included a pros&cons table for Social Shop right off the bat, as we always do, so you get a sense of what we're dealing with here. Of course, for a more detailed overview, keep reading till the end!
| PROS | CONS |
| --- | --- |
| Inexpensive | Not available at the moment |
| Doesn't ask for your password | Instagram deletes the followers |
| | Potentially harmful |
| | Bad rating on sites like Trustpilot |
Does Social Shop work?
We believe the most important topic we have to discuss here is whether or not this service is operational.
Social Shop reviews are accessible and we'll get to them in a minute, but the service itself is not available at the time.
If you want more information, you'll have to go to the web archives because the official site of SocialShop is currently offline. We don't know whether this is a temporary or a permanent issue, but it has been going on for a while now.
We had to turn to the archives to see what it's supposed to look like.
Here's how the Social Shop's homepage looks, in case you're not familiar with it.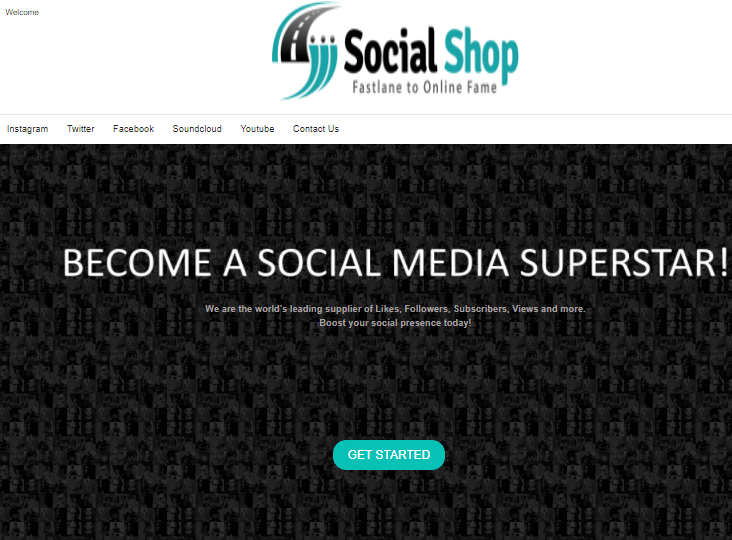 What is happening with Social Shop?
Since SocialShop is currently unavailable, and like us, you're probably wondering if this is a temporary or permanent problem.
To be completely honest, we have no idea.
Things like this can happen to any online business, but if there's a momentary problem with the site, it should be fixed fast. In fact, it shouldn't take longer than a few days.
Why is it taking so long for SocialShop to boot up?
There might be a million reasons, but we'll make the best of what we have.
What customers think
You're undoubtedly concerned about SocialShop's inaccessibility, but the good news is that you can still read the reviews.
If you try to look for a SocialShop likes review, for example, the search will send you to Trustpilot, where this service has a very low rating.
More specifically, every single one of the Trustpilot reviews is unfavorable.
Here are two instances of past SocialShop users that were really irritated by the service. Check it out: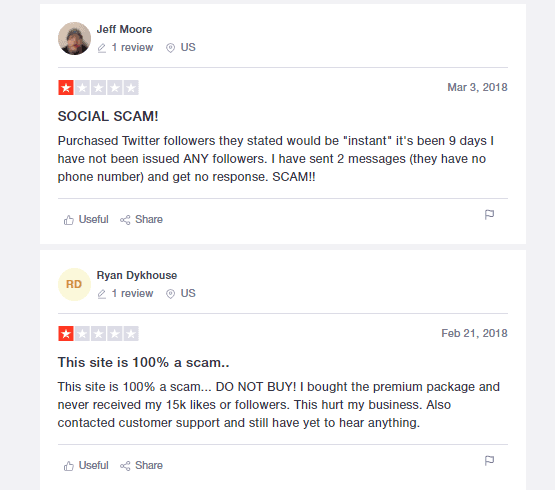 You'll find that folks complain about the same issues if you go down and read a few more reviews.
Previous customers report that SocialShop either supplied followers who were removed within a short time or that their order was never fulfilled.
Both scenarios are unacceptable, especially for someone who has chosen a somewhat bigger package. This would entail not only losing followers but also wasting money.
Does this make you believe SocialShop is a scam?
Don't rush to make a decision; we still have a few things to say about this service.
The truth about Social Shop's followers
Before we get to Instagram followers, it's worth noting that SocialShop works (or worked) with a variety of platforms.
You could use this service to purchase followers, likes, and subscriptions for:
YouTube
Twitter
Facebook
SoundCloud
To answer all of your Social Shop Instagram follower questions, let's spend a few moments focusing on their offer.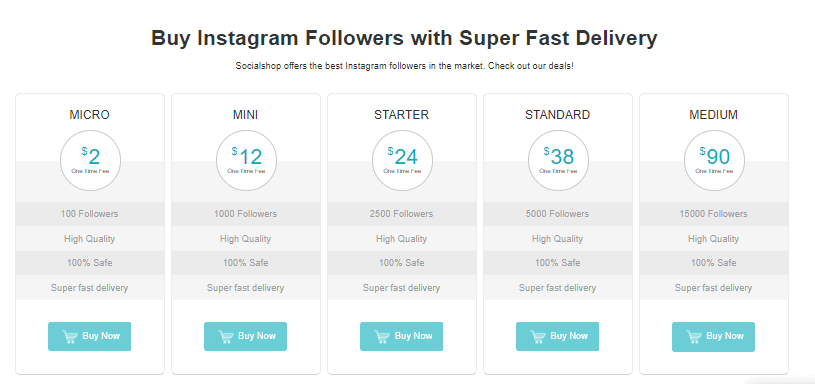 There are five different bundles from which to pick.
The price at which SocialShop sells its followers is the first thing that strikes attention – followers are incredibly cheap here!
The most costly plan, which goes for $90, comes with 15,000 followers.
For a number of clients, low costs are a significant benefit because their budget may be limited. However, you should be aware that low costs usually don't imply high quality.
If you wish to buy a bundle of followers from SocialShop, all you have to do is:
Select a bundle
Fill up your billing details and username.
Wait for the followers to begin pouring in.
This appears to be quite simple, but does it work? We're talking about the speed and quality of service you expect.
SocialShop encourages fast and instant delivery, which isn't all that great.
If you're going to buy followers from a growth service like this, look for ones that advertise organic-like delivery.
You don't want 10,000 people to follow you all at once. This might jeopardize your Instagram account.
Instagram's algorithm can quickly detect and delete any unnatural inflow on your profile. You can find dozens of comments pointing to this if you scrolled down through the Trustpilot reviews.
Another extremely important aspect is the quality of the followers you buy.
What kind of followers can you get from SocialShop, and how good are they?
This business claims that the followers are real people who use Instagram in the same way you do. If that's the case, these accounts should stay on your profile and continue to engage with you and your content.
However, a closer look at the reviews reveals that this is not the case. Although SocialShop provides a certain amount of genuine followers, it also provides fake accounts.
A huge deal of these profiles comes from India and China. They usually don't have a profile photo or any posts, so it's pretty easy to recognize them.
Social Shop Summary
Let's take another look at a pros&cons table for Social Shop before we make a final decision about this company.
| PROS | CONS |
| --- | --- |
| Reasonably priced | Currently unavailable |
| Doesn't require your password | Poor Trustpilot rating |
| | Followers are deleted from your account |
Final word
The story of the Social Shop scam is a confusing one, we'll admit. There is still a veil of mystery around its sudden disappearance.
Will it come back or not? Who knows.
What we do know is that you shouldn't spend too much time on it – not when there are immeasurably superior services like those we mentioned earlier.
With those guys, you can start gaining authentic followers today, so what are you waiting for?
Get down to business and good luck!